VOICI AZUR DES AILES ENCHANTÉES

HERE IS AZUR DES AILES ENCHANTÉES

IL APPARTIENT A UNE AMIE
MME NATHALIE FORMAUX



IT IS UP TO FRIEND MME NATHALIE FORMAUX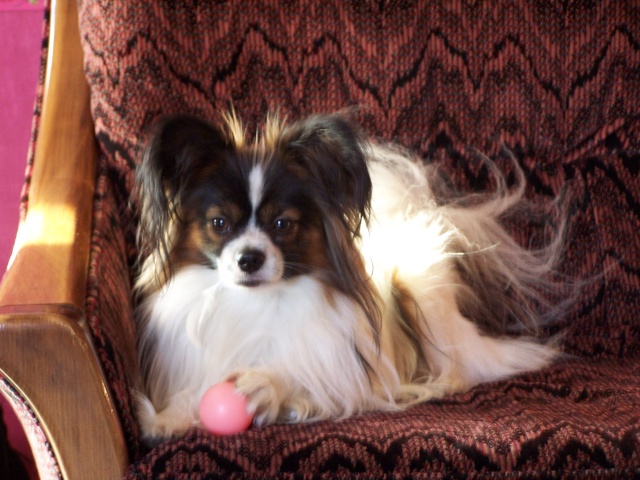 IL FAIT PARTIE DE LA CATÉGORIE DES PLUS DE 2,5 KGS
IL PÈSE 4 KGS ET MESURE 27 CMS.

IL EST DE COULEUR FAUVE CHARBONNÉ
MAIS LE NOIR DOMINE.
IL A DÉJA UNE FOURRURE TRÈS ABONDANTE
ET LONGUE.
IL EST SUPERBE!

IL A UN EXCELLENT CARACTÈRE,
DOUX, CALIN, ADORABLE,
TRÈS SOCIABLE.
IL EST AUSSI TRÈS INTELLIGENT.



HE IS OF COLOR BLACKENED WILDCAT(FAWN) BUT THE BLACK DOMINATES.




HE HAS A VERY PLENTIFUL AND LONG FUR.




HE IS MAGNIFICENT!





HE HAS AN EXCELLENT CHARACTER, SWEET, AFFECTIONATE,




ADORABLE, VERY SOCIABLE.


HE IS ALSO VERY INTELLIGENT.


§§§§§§§§§§§§§§§§§§§§§§§§§§§§§§§§§§§§§§§§§§§§§§§§§§§§§§§§§§§§§§

IL A ÉTÉ CONFIRMÉ 1er EXCELLENT !
VOICI LE RAPPORT DU JUGE



HE WAS CONFIRMED 1st EXCELLENT!




HERE IS THE REPORT OF the JUDGE





Qualification : Excellent
Classement : 1er
Récompense : CACS
Meilleur de Race
Notes du juge :
Fauve charbonné - excellent crane - liste blanche - excellente pigmentation - très belle franges d'oreilles - Beau panaché -Poil Ondé - Exce pied bien en plume - Belle Colerette et culotte - Sujet très bien typé - T B marche - bien contruit et proportionné - Très belle allure.
Elégant
Qualification: excellent
Classification: 1st
Reward: betterof Race CACS
Notes of judge:
Blackened wildcat(fawn) - excellent crane - white list - excellent pigmentation - very beautiful fringe of ears - Beautiful colorful(mixed) - hair Ondé-Excellent foot indeed in feather - Belle Colerette and panties - very well typified Subject - T B walk - indeed Constructed and proportionned - very beautiful speed(look).
Elegant


§§§§§§§§§§§§§§§§§§§§§§§§§§§§§§§§§§§§§§§§§§§§§§§§§§§§§§§§§§§§§§



PEDIGREE

:


AZUR A UNE EXCELLENTE LIGNÈE,
IL Y A BEAUCOUP DE CHAMPIONS.

A NOTER QU'IL A EN COMMUN AVEC ANGIE :
MANGO'S GOLDEN NORWEGIAN GIRL,
LALLY DU MAS DE LA REVELIÈRE.

ET AVEC SHANNA :
ARZILLO SATURDAY NIGHT

CHAMPION ITALIE, FINLANDE, INTERNATIONA

L
TO NOTE THAT HE HAS IN COMMON WITH ANGIE:
MANGO GOLDEN NORWEGIAN GIRL,
LALLY DU MAS DE LA REVELIÈRE.
AND WITH SHANNA:
ARZILLO SATURDAY NIGHT
champion Italy, FINLAND, INTERNATIONAL
AZUR HAS AN EXCELLENT ANCESTORS,
IT Has MANY CHAMPIONS.
CÔTÉ PAPA
:
TOYMAKERS NORTON
LE PÈRE
CHAMPION DE FRANCE
CHAMPION INTERNATIONAL
ÉTALON RECOMMANDÉ
THE FATHER
CHAMPION OF FRANCE
INTERNATIONAL CHAMPION
RECOMMENDED STANDARD(STALLION)
TOYMAKER'S FELIX
GRAND PÈRE
CHAMPION DANEMARK



BIG FATHER



CHAMPION DENMARK
PIEROSAS STORMY WEATHER
ARRIÈRE GRAND PÈRE
GRAND PÈRE DE TOYMAKER'S NORTON


DEFER BIG FATHER



BIG FATHER OF TOYMAKER NORTON

PEPSTAR'S EMILIE
ARRIÈRE GRAND MÈRE
GRAND MÈRE DE TOYMAKER"S NORTON
CHAMPIONNE INTERNATIONAL,
DANEMARK
BIG BACK MOTHER
BIG MOTHER OF TOYMAKER " NORTON
CHAMPION INTERNATIONAL,
DENMARK
PIEROSAS PFERRARI
ARRIÈRE ARRIÈRE GRAND PÈRE


BACK DEFERS BIG FATHER


CHAMPION SUÈDE


PIEROSSAS SHIKISHA
ARRIÈRE ARRIÈRE GRAND MÈRE


BACK DEFERS BIG MOTHER




FLIGH HIGH VALENTINO
ARRIÈRE ARRIÈRE GRAND PÈRE
CHAMPION INTERNATIONAL,
DANEMARK

BACK DEFERS BIG FATHER
§§§§§§§§§§§§§§§§§§§§§§§§§§§§§§§§§§§§§§§§§§§§§§§§§§§§§§
§§§§§§§§§§§§§§
CROWN'S BEST GITTE OR ROCKY
GRAND MÈRE

BIG MOTHER
SAFIKA'S ONE O'CLOCK ROCK
ARRIÈRE GRAND PÈRE

DEFER BIG FATHER


CROWN'S BEST ANJA
ARRIÈRE GRAND MÈRE


DEFER BIG MOTHER


FLYING SILK OLIVER ONE
ARRIÈRE ARRIÈRE GRAND PÈRE

BACK DEFERS BIG FATHER
CHAMPION DANEMARK


SAFIKA'S KIKI

ARRIÈRE ARRIÈRE GRAND MÈRE
BACK DEFERS BIG MOTHER



RINGLANDS TOPITIN

ARRIÈRE ARRIÈRE GRAND PÈRE

BACK DEFERS BIG FATHER
PEPSTAR'S ERIKA

ARRIÈRE ARRIÈRE GRAND MÈRE
BACK DEFERS BIG MOTHER


§§§§§§§§§§§§§§§§§§§§§§§§§§§§§§§§§§§§§§§§§§§§§§§§§§§§§§§§§§§§§§§§§§§§§§§§§§§§§§§§§§§§§



CÔTÉ DE LA MAMAN

:


SIDE OF THE MOM:



RAPSODY DU MAS DE LA REVELIÈRE
LA MAMAN


THE MOTHER





ARZILLO SATURDAY NIGHT
GRAND PÈRE


BIG FATHER



CHAMPION ITALIE, FINLANDE, INTERNATIONA

L
PEPEJAS NIGHT SURPRISE
ARRIÈRE GRAND PÈRE


DEFER BIG FATHER




MANGO'S GOLDEN NORVEGIEN GIRL
ARRIÈRE GRAND MÈRE

LALLY DU MAS DE LA REVELIÈRE
GRAND MÈRE

BIG MOTHER
GOLBY DES ROUENNAISES DE PETITE COURONNE
ARRIÈRE GRAND PÈRE

==> CHAMPION DE MONACO, FINLANDE, BELGIQUE
CS , MC.B
RECOMMANDÉ <==
DEFER BIG FATHER
== > CHAMPION OF MONACO, FINLAND, BELGIUM
CS, MC.B RECOMMENDED < ==
HIOMARA DE MIKEPOL
ARRIÈRE GRAND MÈRE


BIG BACK MOTHER